Posted by Sherijan Ivan Dela Cruz on Mar 1st 2019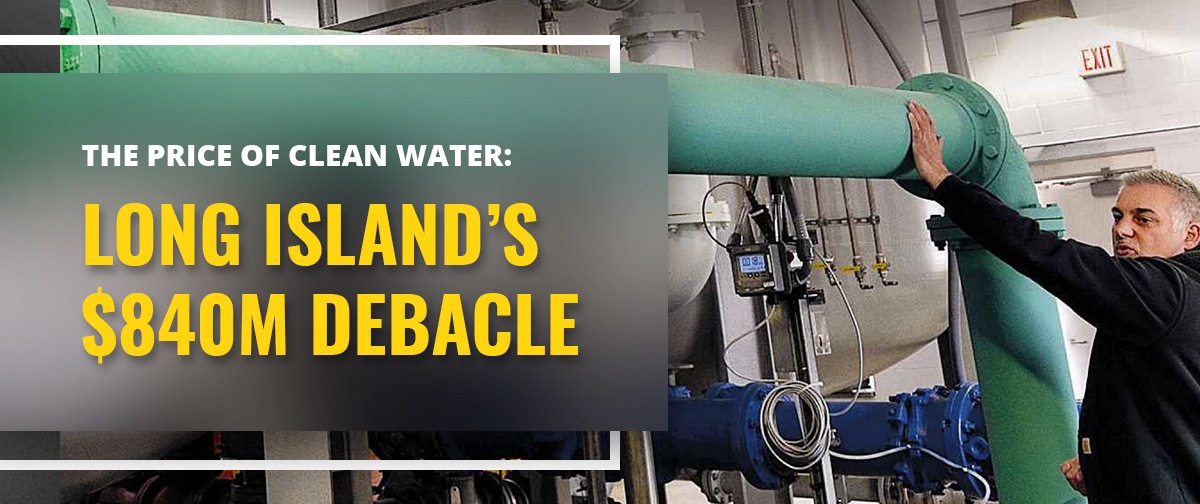 Residents of Long Island, New York expect a shocking rate hike on water bills as the Long Island Water Conference estimated an $840 million cost to build new treatment systems and facilities, an official statement revealed Thursday, February 14. This is to treat 185 drinking water wells contaminated by 1,4-dioxane—a carcinogenic, man-made compound most commonly found in industrial solvents, cosmetics, detergents, shampoos, and other home care products. The United States Environmental Protection Agency warned of the harmful effects of 1,4-dioxane, which can cause liver and kidney failure. Water providers claimed that the dangerous chemical is possibly immune to conventional treatment methods, and cannot be filtered by most filtration systems available in the market. A new standard for the chemical must be implemented immediately by the state government, said advocates and environmentalists, in order to protect the public from further contamination.
But the cost estimate is significantly higher than the allocated budget of $318 million released by the U.S. Department of Health. According to Long Island Water Conference, concentrations of 1,4-dioxane higher than 1 part per billion were found on the wells of the New York City suburb. The additional cost estimate, plus $30 million in annual maintenance and overhead, could cause water rates to spike astronomically, as stated by local water providers. Local representatives are asking for aid from the state and to delay the enforcement of a standard for 1,4-dioxane. Conference spokesman Dennis Kelleher said the new cost estimate is higher than the state's budget due to expensive treatment for the chemical, inclusion of smaller water districts not recorded during the original survey, and the water providers treating wells before contamination reaches maximum levels.
More than 50 water providers and industry specialists comprise the Long Island Water Conference, which held their annual meeting with state and local lawmakers and state government officials Thursday, February 14, at the Suffolk County Water Authority education center in Hauppauge. They converged to discuss plans to rehabilitate Long Island's water quality and to ask for additional state aid and a delay on their compliance date with the standard, as well as to propose banning 1,4-dioxane from household products.
Long Island's estimated water treatment costs ballooned to $840 million due to expensive but state-of-the-art systems and facilities. While most are still waiting for state approval, one treatment system—Suffolk County Water Authority in Central Islip—has been green-lit. Other systems are still being tested, including Bethpage Water's $2.8 million treatment facility. The water authority provides water to 1.2 million residents. "These are tremendous costs. This could create rate shock," said Jeff Szabo, CEO of Suffolk County Water Authority.
Looking at a broader scope, the state of New York in December set aside $200 million to ward off emerging contaminants like 1,4-dioxane. But Szabo reiterated the need to provide more financial grants to help water providers. "The funding that's been allocated won't be enough to address contamination," he said. "The cost burden will be picked up by ratepayers." Brad Hutton, deputy state commissioner for public health, commented about the state's $200 million fund allocation for emerging water contaminants as having the most of any state in the nation. "It remains to be seen how many systems will need treatment and what the costs will be," Hutton commented.
According to Szabo, it's too early to predict how much rate increase would be needed to cover up for the additional costs. He added, however, that a 1 percent increase can generate roughly $1.2 million in additional revenue. Therefore, it would take a rate increase of up to 42 percent to raise $50 million. Suffolk households use an average of 160,000 gallons of water every year, which comes with a $400 total annual bill. Kelleher warned that water rates could double in some water districts where multiple wells are contaminated, should the state decide to delay financial assistance to Long Island's problematic water system.
Source: https://www.newsday.com/long-island/1-4-dioxane-cl...